The library of Celsus at Ephesus is probably one of Turkey's most photographed historical structures. It belongs to the ancient city on the Aegean coast, close to Kusadasi holiday resort and Selcuk working city.
One of my interests is the history of Turkey, while I am learning about my adopted country, so naturally I have a great deal of respect for the excavated ruins and their magnificent architecture. Writing from the heart, however, and extensively about the ancient city of Ephesus would take a book, so I chose the Celsus library as my own post.
On my first and second visit, I was pleased by the Celsus library in Ephesus but it wasn't until my third visit that I felt deep admiration for the façade, architecture and historical significance. I suspect this is because I wrote a lot of articles about Ephesus over the last 2 years, so I had to do a lot of research in the process. This background knowledge has enhanced my visit and I recommend that anyone who plans to visit Ephesus without a knowledgeable guide should first get a good book for themselves or use one of the audio guides sold at the entrance.
When was the Library of Celsus founded in Ephesus?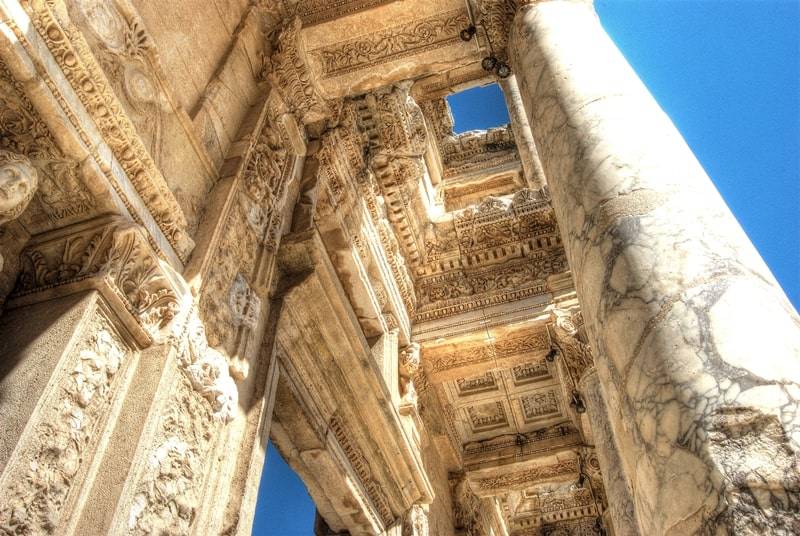 Explaining the Celsus library's past is straight forward. It was founded in 135 AD by Gaius Julius Aquila who wanted to honor his father, then a general governor for the province of Asia and properly called Celsus, hence the library's name.
Hence it is reasonable that the family has been rich and able to carry out such complex construction projects. At the same time as honoring his father, I suspect that some of the motive could also be to boast, because at one time the library could hold up to 12,000 scrolls making it the ancient world's third largest library.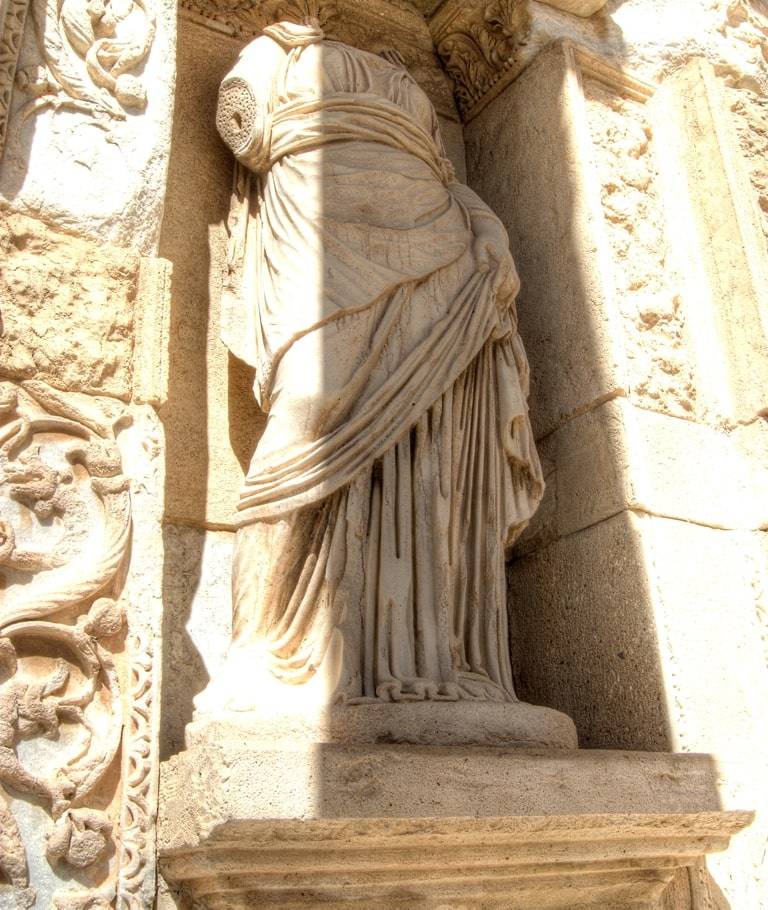 Celsus library statues
Visitors walk nine steps up to the front facade, where four statues were held by niches in the wall. Unfortunately those we see today are not the originals because they are in Vienna's Ephesus Museum but their purpose was to represent wisdom , knowledge, virtue and judgment.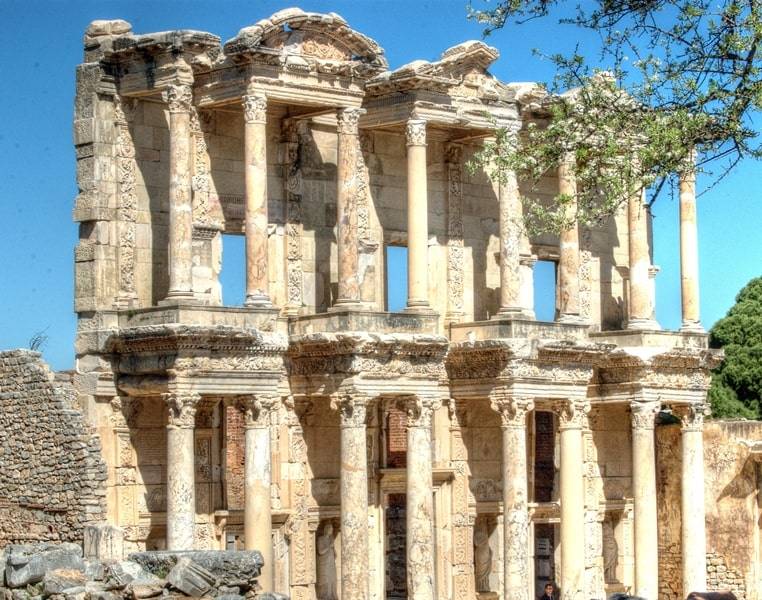 Perhaps qualities Gaius felt possessed by his father, because he also had his white marble sarcophagus, 2.5 meters below the library. I think my guidebook was out of date, decorated with the sculptures of Medusa, Nike and Eros, as it said tourists could walk through a long corridor to reach it but I never found access to any such spot.
Exploring Ephesus' Celsus library is swift and easy. The interior hall is nothing like front façade grandeur. It is a small but impressive structure, and ultimately one of the old city's most important architectural structures.
Turkey is a place where you can find a wide range of natural attractions that nobody else in the world can see. It is easy to reconnect with nature in Turkey, with 43 national parks and 300 wetland areas. With Turkey Tour and Turkey Tour packages, come and discover the amazing natural wonders, natural protected areas, and nature parks in our country.
Explore all of Turkey's natural beauties, such as breathtaking crashing waterfalls, magnificent mountains, idyllic Black Sea plateaus, beautiful canyons, fascinating valleys, breathtaking crater lakes, floodplain forests, majestic trees, lakes and rivers. Cappadocia Tour and Cappadocia Tour 2 days are available to guide you, visit them to explore more about Turkey its neighborhoods and its culture.