Do not assume that the only thing you can do while on holiday in the Antalya Region is lie on the beach. There are a huge variety of activities, places to discover, and enjoyments in Antalya. But for many visitors, history is barely mentioned. In contrast, Antalya is all about the beaches that line the coast and taking boat tours to see the views of the Mediterranean coastline. All you need to know about the most enjoyable and top tourist attractions in Antalya is provided in the list below. Read about the top tourist destinations, activities you shouldn't miss, special outings, adventure parks, and noteworthy off-the-beaten-path spots.
Top 5 Tourist Attractions in Antalya
It's undoubtedly worthwhile to spotlight the most popular tourist attractions in Antalya before we move on to the other magnificent and eye-catching beauties of Antalya.
The Land of Legends Theme Park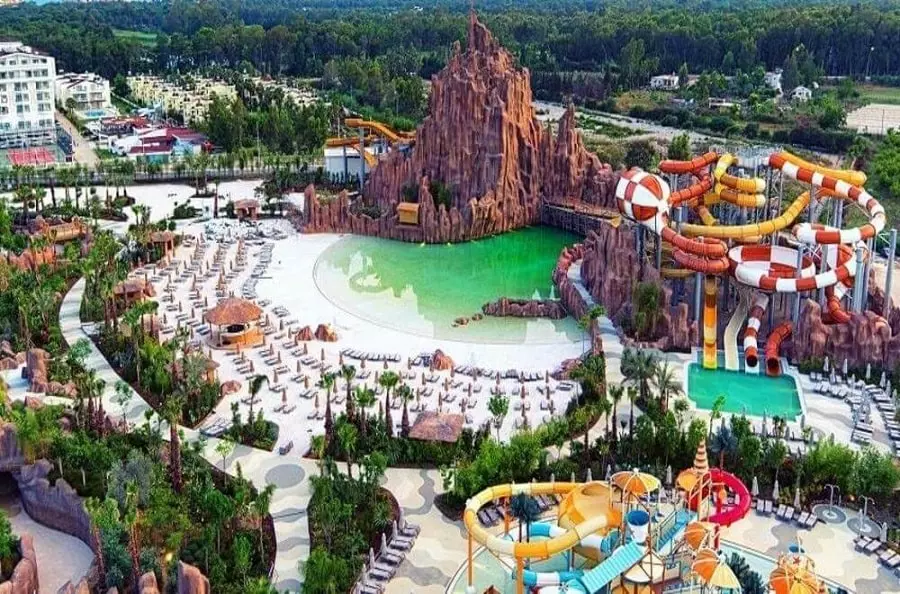 You are immediately immersed in a world of fairy tales when you arrive at the resort, and this theme is carried throughout the entire building. The resort is known as the Disneyland of Antalya for a reason. The enormous water park has 55 slides in total, a theme park with every ride you can imagine, including gondola rides on the canal, popcorn and donut stands, and fairy tale figures wherever you turn.
Beach Resorts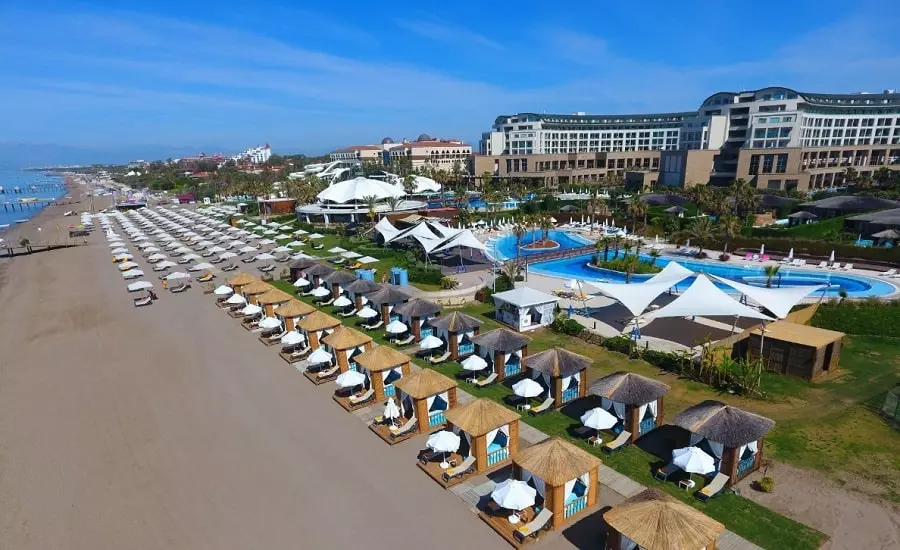 Konyaalt Beach is situated in front of the commanding Taurus Mountains, Mermerli Beach is a stony sandy beach that is close to the port and is reachable via restaurant steps, and Marmara Beach is only accessible via elevator. The 18-kilometer Patara Beach in Kaş, one of the best places to visit in Antalya, is renowned for its white sand, while families will favour Cleopatra Beach close to Alanya. While Olympos Beach stands out for its proximity to nature and wildlife, Lara Beach will impress you with its proximity to the sea-facing Düden Waterfalls.
Köprülü Kanyon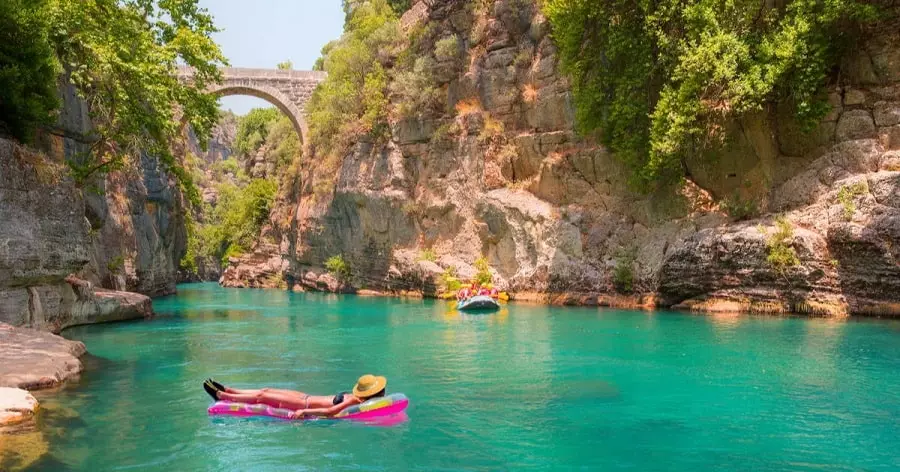 The greatest rafting center in Turkey is found in Köprülü Kanyon, a 366 km2 canyon and national park, 90 km northeast of Antalya. Wild water and rapids of all sizes and difficulties can be found here. It is a magnificent experience to go rafting on 12 kilometres of ice-cold spring water when the sun is beating down. Rafting is possible all year round in Köprülü Canyon. There are guided tours available, and equipment is frequently offered.
Alanya Teleferik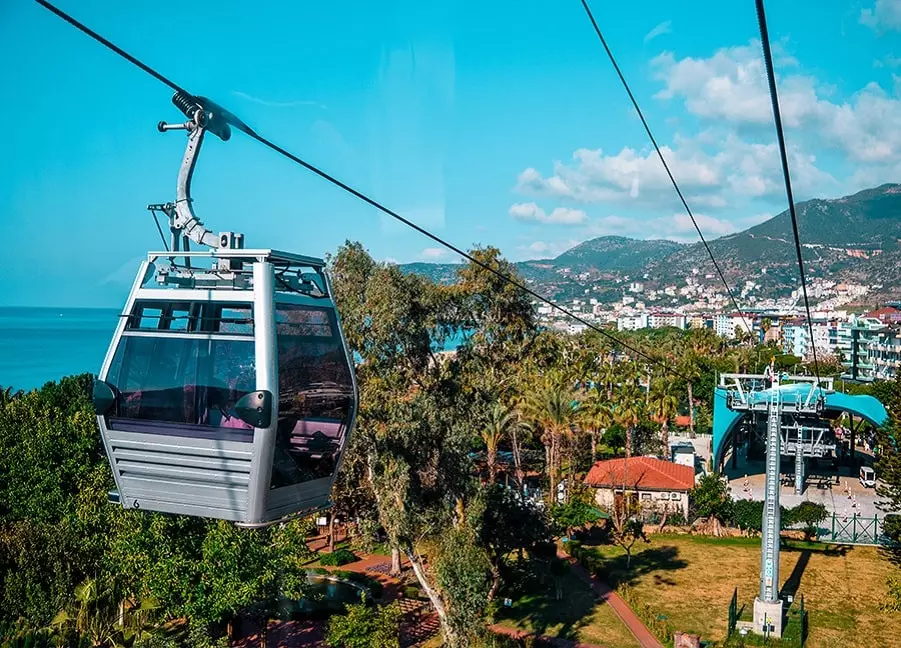 From the beach to Alanya Castle, a total of 14 cable car cabins travel in just over 5 minutes. The Damlataş Cave, whose air is claimed to have beneficial effects on the respiratory system, is not far from the station on the beach. The cave's consistent temperature and high humidity are 23 degrees. Covering an area of 900 metres, the castle is perched on a rock about 250 metres above sea level. You have a beautiful view of Alanya and the surroundings from up here.
Olympus Teleferik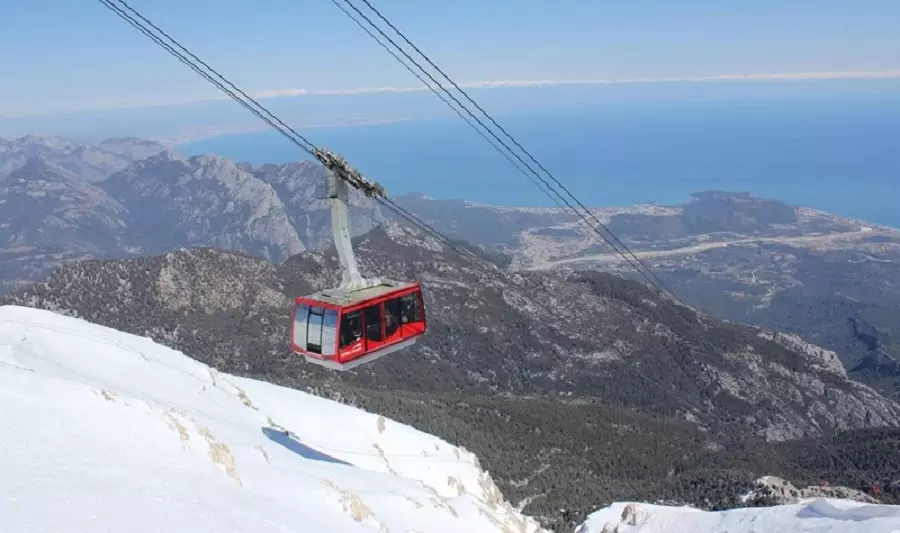 The red cable car cabins travel every ten minutes from Kemer's beach to Tahtal Mountain, also renowned as Olympos. The Olympos Teleferik cable car is one of the world's longest, measuring 4,350 metres in length. The 10-minute trip up the 2,365-meter peak offers a breathtaking view and the opportunity to observe Phaselis' ancient ruins. In ideal weather, you can even see Alanya from the mountain top.
Top 5 Things to Do in Antalya
After highlighting the best tourist attractions in Antalya, it is time to shed some light on the best things to do in Antalya that you will long to remember.
Getting to the Mediterranean from the Old Harbor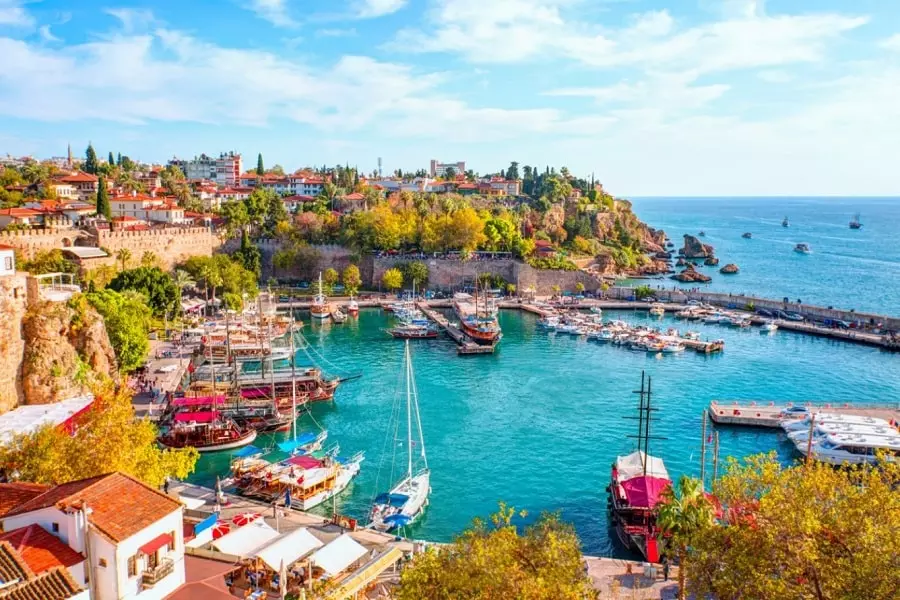 Antalya's historic harbour, located in the northwest corner of the old town, is a lovely cluster of cafés and restaurants with views of gently bobbing yachts getting ready to sail off into the Mediterranean. It's hard to think that this area was once Antalya's primary economic centre given its calm, pleasure-boat vibe, but from the second century until the middle of the 20th century, this served as the city's principal port, bringing trade and prosperity to the area.
Exploring the Old Town, Antalya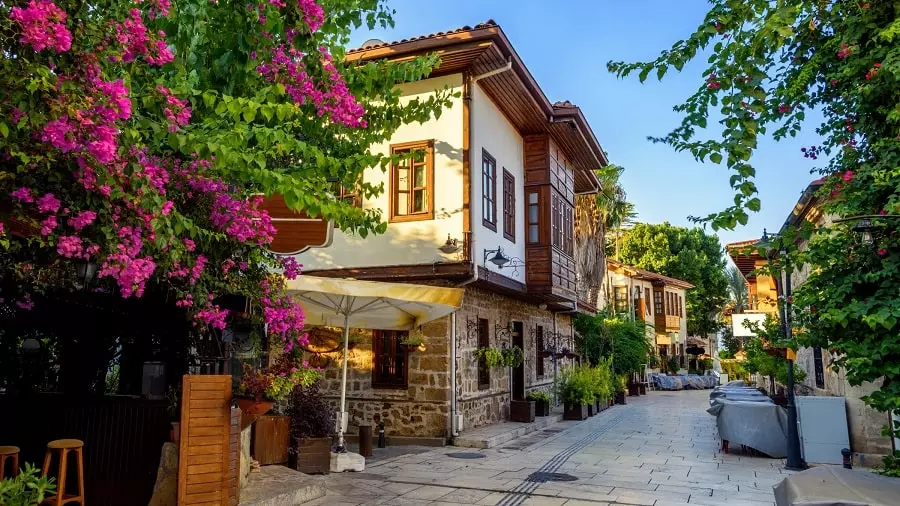 The cobblestone streets are lined with immaculately preserved whitewashed and red-roofed Ottoman houses that are now home to numerous boutique hotels, gift stores, art galleries, and restaurants. There are several minor tourist attractions for those who want to sightsee, even if it's more of a spot to just take in the old-world atmosphere. The 18th-century Tekeli Mehmet Paşa Mosque is worth a look merely for its elaborate interior tile work, and the main square features a fortress gate and a clock tower covered in stone.
Relaxing on Konyaalti Beach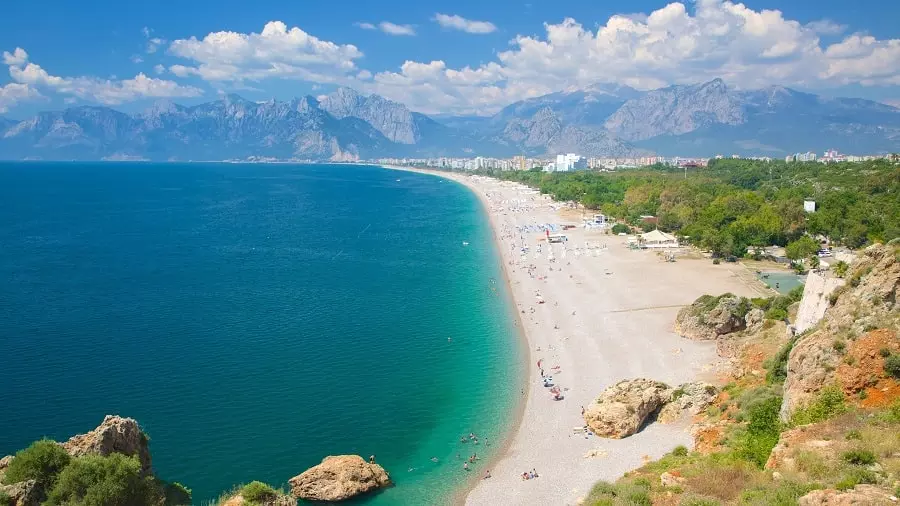 One of Antalya's two finest beaches, Konyaalti Beach is located west of the town's centre and has a gorgeous backdrop of mountains that descend to the sea beyond. This strip, which is more pebbly than sandy, is quite popular in the summer with both domestic and international tourists, and the abundance of facilities available makes lazy beach days uncomplicated. The beach is certainly one of the best things to do in Antalya, Turkey.
Enjoying at Lara Beach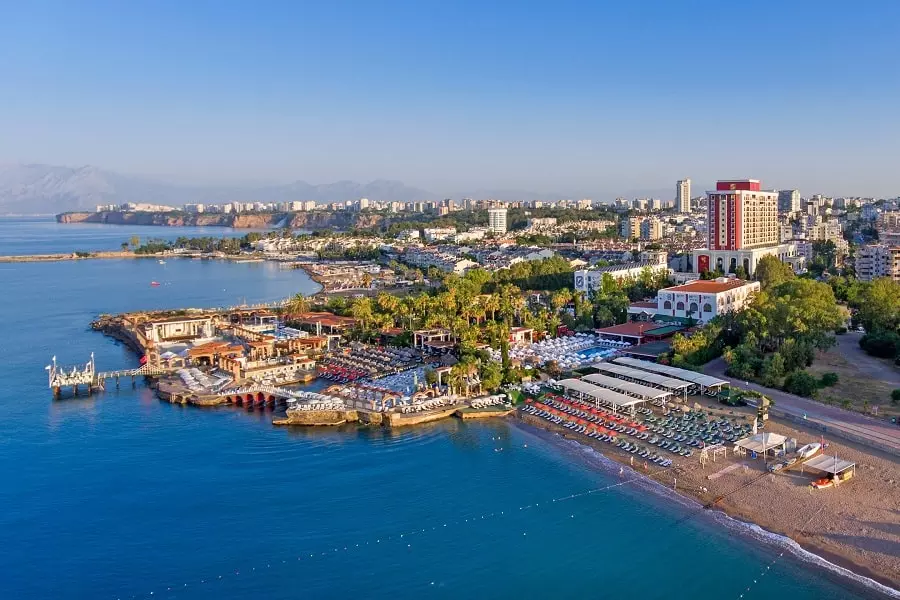 Lara Beach, to the south of Antalya's city center, is well-known for its fine, white sand, good family-friendly amenities, and a variety of activities, including stand-up paddleboard and jet-ski rentals for those who want to get out on the water. For those who only want to relax in the sun, renting sun loungers and umbrellas, Lara Beach, the best of Antalya, is a simple option.
Having Trip to Aspendos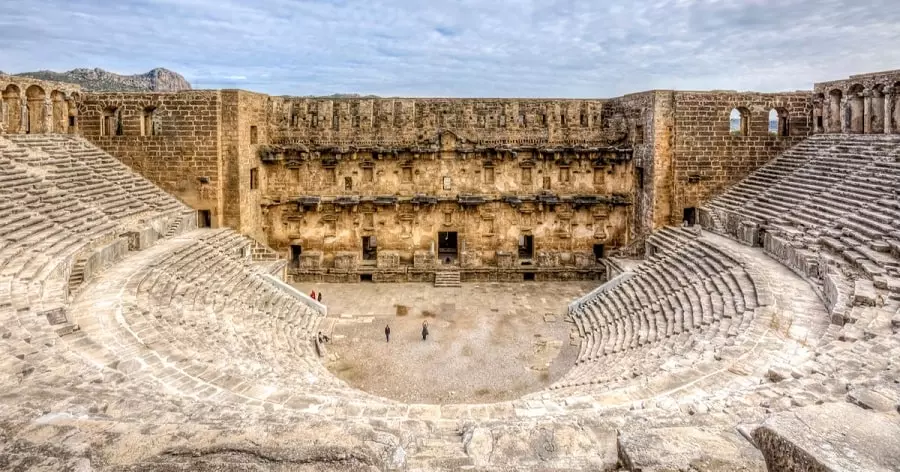 History buffs primarily travel to Antalya to take a day excursion to Aspendos, which is located approximately 47 kilometres to the east. One of top tourist attractions in Antalya, this ancient site is home to a Roman theatre that is reputed to be the best preserved in the entire world. The 2nd and 3rd centuries, when the majority of the ruins that can be seen today were constructed, were the heyday of this magnificent, historic town.
Antalya's Village without Concrete Structure
Tourists are still drawn to the Ottoman-style homes that have been preserved in Antalya's Akseki neighbourhood in accordance with the original designs. According to reports, 80,000 domestic and foreign visitors stopped by the mediaeval village last year. The mediaeval button houses amidst the ruins are being repaired in order to revive the Sarhaclar village of Akseki, which was abandoned by its residents after the caravan trade lost its significance and is situated on the Historical Silk Road in Antalya.
A tourism provider Mustafa Kavasoglu claimed that when he first visited the historic town of Sarhaclar in 2009, he observed it to be a populated community. Kavasolu remarked:
"When I came, there were 4 families living in this village. It is a village that has retained its historical character and has no concrete structure. The environment here has a feel that really appeals to me. It was both fascinating and lovely in my opinion. This place has a very historical odour to it. The button houses have been kept extremely authentically. I saw that the mosque had amazing embroidery work throughout."
Tourism in Antalya
Due to the presence of numerous well-known attractions, Antalya is one of the most popular tourist destinations in the Mediterranean and the entire world. 30% of foreign visitors to Turkey come here.
In the first eleven months of 2022, Antalya, a well-liked vacation spot in Turkey, welcomed 13.1 million foreign visitors, a significant 48 percent rise over the same time in the previous year.
Earlier in late 2022, Recep Yavuz from the Tourism Working Group at the Antalya City Council stated:
"The last three months of 2022 are going really well. We can refer to it as the "golden fall,"
Why You should Visit Antalya in Summer
You might be wondering where the ideal summer vacation spot for 2022 is. There are undoubtedly many possibilities available, but we're here to give you the reasons why to visit Antalya in summer.
The Most Affordable Mediterranean City
Antalya is unquestionably the best choice if you're seeking for an affordable international summer vacation spot. By both Middle Eastern and European standards, Turkey as a whole is very inexpensive, and Antalya is no exception. Budget-conscious travellers can find amenities here that they might not be able to find in other Mediterranean countries like France and Spain. The Mediterranean City has become one of the popular places in Antalya.
History is All Around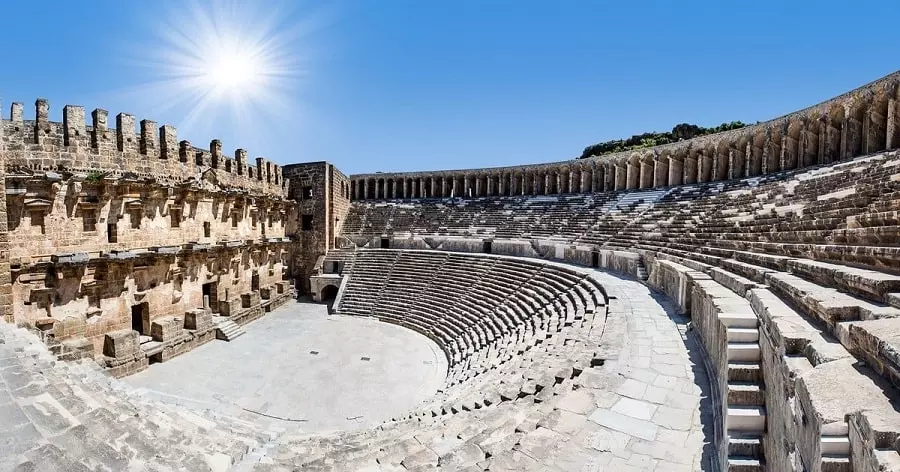 Additionally, if you're a fellow fan of history, you might be astonished to learn that the current city was actually built by the Greeks in 150 BC and managed to keep much of that Greek spirit for the most of its existence even if it is currently a part of Turkey. Despite being subsequently ousted from the province, several Greek-era monuments have remained. You will encounter a magnificent Roman-era city gate as you approach the ancient area of the town, known as Hadrian's Gate because it was constructed to honour the Roman Emperor's visit in the year 130.
Plentiful Beaches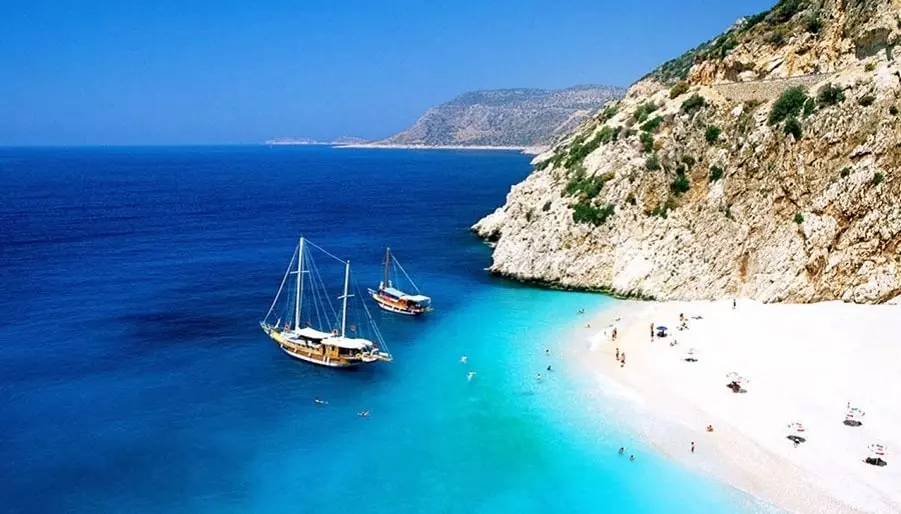 The primary entrance to the legendary Turkish Riviera, where miles of sandy beach meet some of the purest waters in the basin, is Antalya, which is located on Turkey's Mediterranean coast. As a result, travellers that arrive in Antalya straight don't even need to travel far to choose their own beach area. The Konyaalti stretch, which is about 5.4 kilometres from the city's historic centre, is one of many beaches that are found within the city's boundaries. It is still much quieter than beaches in the French Riviera or Spain, despite the fact that it does get crowded in the summer as tourists and residents jam into this beach to spend their time in the sun.
Why You should Visit Antalya in Winter
One of the reasons more and more travellers are choosing Antalya not just as a summer destination but also as a winter vacation resort is due to the city's Mediterranean climate, which features hot, dry summers and rather warm, rainy winters. Let's unfold why to visit Antalya in winter.
Comfortable Weather
Antalya performs better in the winter than places like Istanbul and the Aegean coast because of its excellent winter weather. Why is this crucial? There are still more days to go sightseeing, enjoy the colder nights, and go swimming in the water. Think about a year with 300 sunny days.
Fewer Crowds
Consider a scenario in which there are fewer people and lines everywhere—at the hotel front desk, the airport, on the local bus, and when dining out. Fewer people everywhere mean swift, efficient service. We also like visiting local tourist attractions in the winter because we can do so at our convenience and avoid the summertime crowds.
Popular Places to Visit in Antalya in Winter
Everyone wants to know if there are still a lot of exciting things to do and places to visit in Antalya in winter. Yes, and here are some suggestions to help you fill your day.
Saklıkent Ski Center operator Cuma Özaydın stated:
"Our anticipated snowfall from the first week of December instead occurred in January. We begin the season after schedule. This winter, the summit will host winter sports for the residents of Antalya."
Hadrian's Gate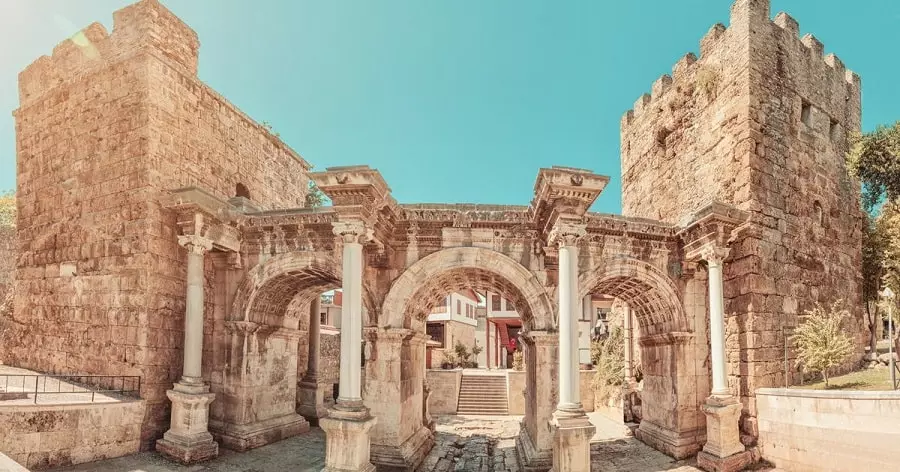 The historical entrance to the imperial city that has survived since Roman times is the Hadrian Gate, one of Antalya's most popular tourist destinations. It was so named in honour of the emperor who came to this city. The gate is adorned with lovely floral designs and blackheads. It is made up of four columns that are joined to three arches by tiny stone bridges.
Clock Tower Antalya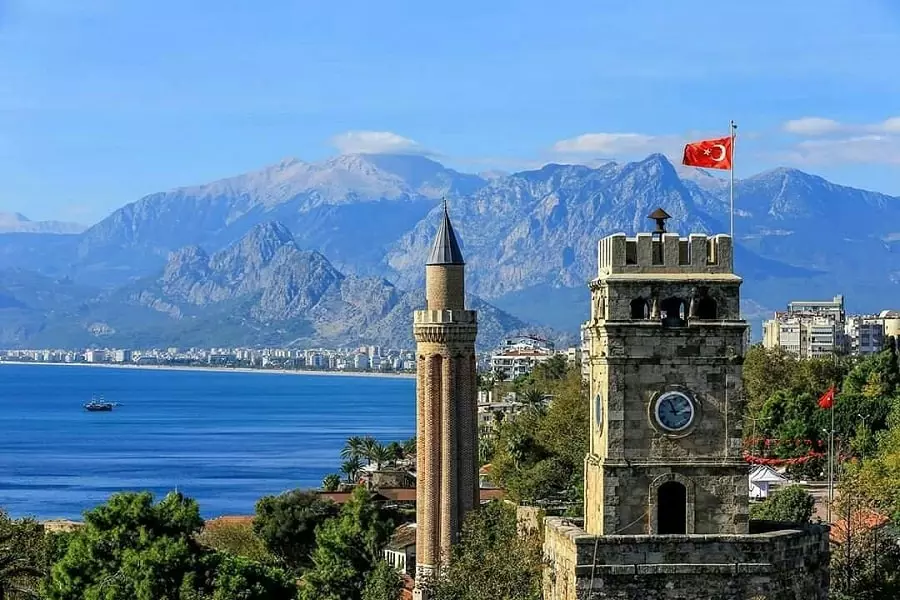 The clock tower was constructed in 1901 and features an eye-catching square shape. This tower's foundation is composed of unpolished stone, which also houses a former piece of the city walls. The clock faces on each wall make it easy to tell the time when coming from any direction. Above the clock are exquisitely crafted crenelations and arches in an Arabic design. Even though visitors can only see the tower from the outside, a visit will provide you a great chance to learn about the history of the city's center.
Theatre of Termessos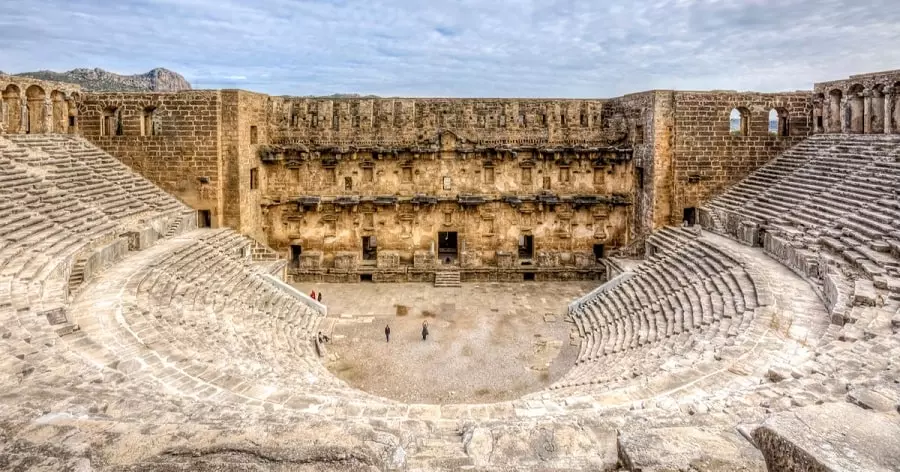 The ancient city of Termessos, which was constructed in a bowl 1000 metres above the sea, high in the Taurus Mountains, is one of Turkey's most breathtaking historical sites. A pine and juniper forest has taken over the once-proud city, concealing lovely buildings and numerous tombs. From deserted theatres and streets, you may take in breathtaking vistas of forested valleys and majestic mountain peaks. The theater is undoubtedly one of the top tourist attractions in Antalya, Turkey.