I handed my fare over to the captain of the taxi boat and sat down breathing a great sigh of relief on the wooden seatbank. In retrospect, it didn't affect my plans for the day. I just wanted to catch a taxi boat from Olu Deniz beach to the popular Butterfly Valley landmark, a large canyon considered one of the most picturesque and breathtaking places in Turkey. It is called Kelebekler Vadisi in Turkish, and is a prime example of the beautiful result of the work of Mother Nature.
By the scheduled departure time, however, to catch the tiny taxi boat, I had to run the gauntlet of the larger boats that insisted on me being their next customer instead. All the reasons I didn't want to visit six islands, sunbathe and swim or enjoy a delicious on-board BBQ fell on deaf ears. When the boat lads saw that their normal selling tactics weren't working, they resorted to some strange and wonderful tales that I might have believed if it had been my first time in Turkey.
The taxi boat to Butterfly Valley had sunk two days ago, according to ticket seller Volkan. Once the ticket seller named Mustafa started talking, I just nodded in politeness but was very pleased when I saw the taxi boat finally sailing in from the corner of my eye.
To the Butterfly Valley
I clambered on the taxi boat hurriedly and we left for Butterfly Valley. Running the ticket sellers' gauntlet and getting soaked while climbing on the taxi boat was worth it as we sailed past large mountains that eventually led to the beautiful canyon which is home to many butterfly species.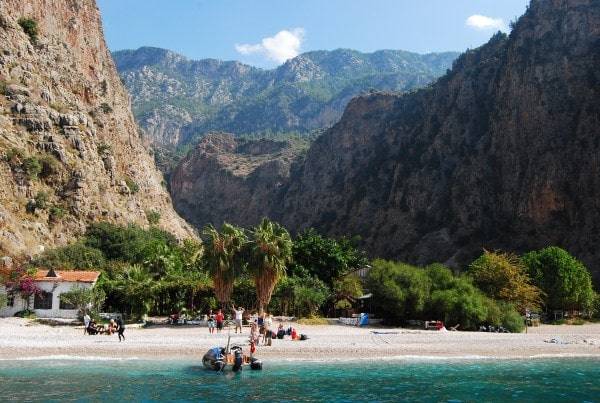 I had been warned not to expect to see many butterflies as it was out of season, but there were some elegantly flying about as I left the taxi boat and walked deeper and deeper into the canyon that reminded me of the movie "Jurassic Park." My first destination in Butterfly Valley was a waterfall, but I had to turn back when a beginner like me found the climb after 900 meters more than difficult. Instead I took some well-deserved refreshments back to the beach area.
Restaurants and Snacks
Butterfly Valley restaurant facilities are basic but that's what the canyon is all about. The focus is not on pandering to every whim so that you feel relaxed and rejuvenated. The slogan is: "We are one. We 're just here. If you visit the self-service restaurant, think of the missing hippie generation and always insist on clearing your own table by taking your dishes to the designated washing-up stage.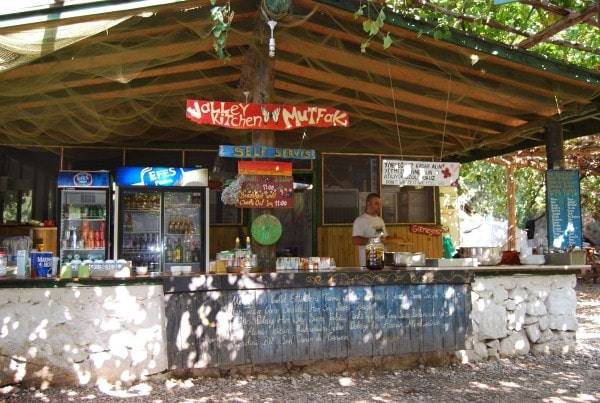 Lodging in Butterfly Valley
Butterfly Valley has to be on your radar if you are searching for places to live in South West Turkey that are off the beaten track. Accommodation is simple, in reality it is a wooden hut and shared bathrooms are washing facilities further down the canyon track. If your definition of fun isn't the wooden huts, you can rent a tent for the night or you're even invited to sleep on the beach!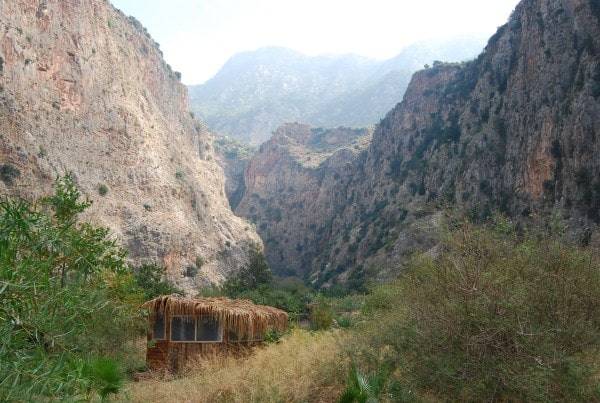 Butterfly Valley: Things to do
Whether you're only visiting Butterfly Valley for the day or overnight, it's all about staying in touch with nature. Trekkers and climbers are going to have a field day in the canyon while photographers are better at freeing up memory space on cameras. In the clear blue waters, swimmers and snorkellers will have a wonderful time or you can just hang out and sunbathe on the sand. BBQs and beach bonfire parties save night time.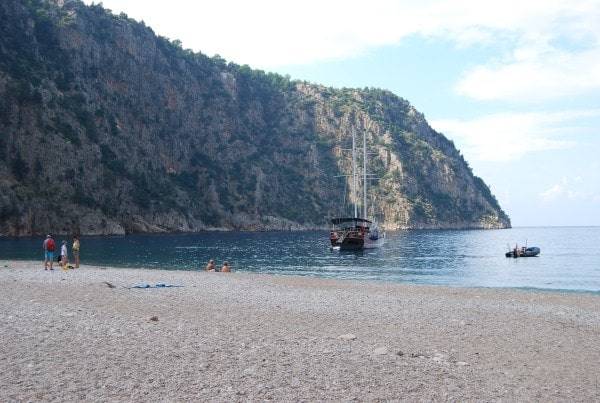 How to get to Schmetterling Valley?
On one of the numerous boat trips that leave Olu Deniz you can visit but your time will be limited. The best way to do this is to use the official Butterfly Valley boat taxi that leaves Olu Deniz at 11.00am and 2 pm and returns from the valley at 1 pm and 5 pm. For a return ticket the cost is 15tl. Note: Forget what ticket sellers have told you, because they're just trying to get you on their boats and they're going to do anything to achieve it.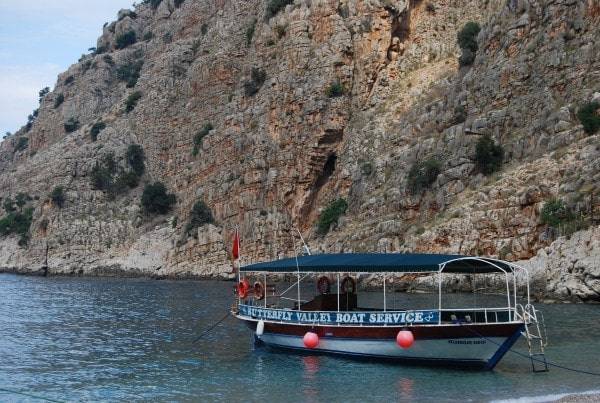 Butterfly Valley Could Tourism Be Destroyed By Mass?
Butterfly valley 's reputation is spreading, and has existed since the 1970s. It would be natural to believe that the canyon is being destroyed by greedy tourism bosses and hotel owners as more and more tourists visit it. However if things proceed as they do, this destination will never fall fowl of the mistakes of mass tourism so often seen in other areas of Turkey.
Butterfly Valley organization "welcomes free spirited and adventurous travelers to enjoy this unique paradise." The goal is to keep the valley as a sanctuary that can be enjoyed forever by spreading the slogan 'living in harmony with nature.' Locals and volunteers are working actively to safeguard the valley from overuse and abuse. You will find more reading on them and Butterfly Valley at http:/yenikelebeklervadisi.org/(Written in both Turkish and English).
Turkey is a place where you can find a wide range of natural attractions that nobody else in the world can see. It is easy to reconnect with nature in Turkey, with 43 national parks and 300 wetland areas. With Turkey Tour and Turkey Tour packages, come and discover the amazing natural wonders, natural protected areas, and nature parks in our country.
Explore all of Turkey's natural beauties, such as breathtaking crashing waterfalls, magnificent mountains, idyllic Black Sea plateaus, beautiful canyons, fascinating valleys, breathtaking crater lakes, floodplain forests, majestic trees, lakes and rivers. Cappadocia Tour and Cappadocia Tour 2 days are available to guide you, visit them to explore more about Turkey its neighborhoods and its culture.