When I first arrived in Turkey, I was intrigued by the relentless barrage of all new items and in some cases frankly strange. Little Turkish quirks displayed by my new friends and learning about everyday aspects of the country 's life, such as how to catch the bus, banking systems and social greetings, made me feel like I've been given a new life lease.
Learning about the culture and customs was a fascinating journey into multiculturalism for most parts, and while all my English friends thought I was very brave, I loved venturing into the unknown because it was an adventure. Fifteen years on and life is still good, but it has worn off the excitement. As the years progressed, everyday life became a familiar routine and I am used to it.
Anyway, the other day, I found myself doing a completely Turkish thing on autopilot which I would never have dreamed of in England. Has my cultural self-identity become a two-sided personality, with Turkish mannerisms subconsciously adopted? Some even say I am half-Turkish and half-British.
Does this mean I was Turkified, the definition of which is when a person of non-Turkish origin adopts Turkish behavior? So, I've composed this collection of Turkish things that I or my friends find themselves doing. So many are you able to recognize?
How to tell if you're Turkish?
1: You walk down the middle of the street when the pavements on your left and right are perfectly good.
2: You've got a Turkish name and you're really referring to it too.
3: You squat easily and effectively when using the hole in the ground toilet, like an army drill sergeant, even though you're wearing pants. As for toilets of western style, it is not common for people who don't use the bum washing nozzle. After all, the crucial highlight of your day is a clear, airy, and new rear face.
4: You have no qualms whatsoever about telling someone they put on weight.
5: Eat breakfast soup, then drizzle garlic then chilli sauce on it.
6: You are now an expert in Turkish politics and can easily judge the social class, religious beliefs, financial status , education and level of stupidity of a person, by which purely political party they vote. They are uneducated, have no idea what they're talking about, or are from the village, whether they don't have any political affiliation, or support an opposition party to you.
7: Their sentences are no longer one language. You 're trying to speak Turkish, but if you don't know a word, the English equivalent is enough, and you've made up your own Turkish language.
8: You can understand Turkish regional dialects by speaking languages and have a choice as to which one is better. Istanbulites are easy to understand because they speak exactly how you've been taught in your textbooks, but anyone with a slight twang, accent or street slang just tries to make life difficult.
9: You can't help but tell Masallah 10 times a day, at least
10: You've got 5 pairs of strictly visitor slippers in your room.
11: You open the sunflower seeds (cekirdek) with your teeth and eat a whole bag watching the world go by without knowing it.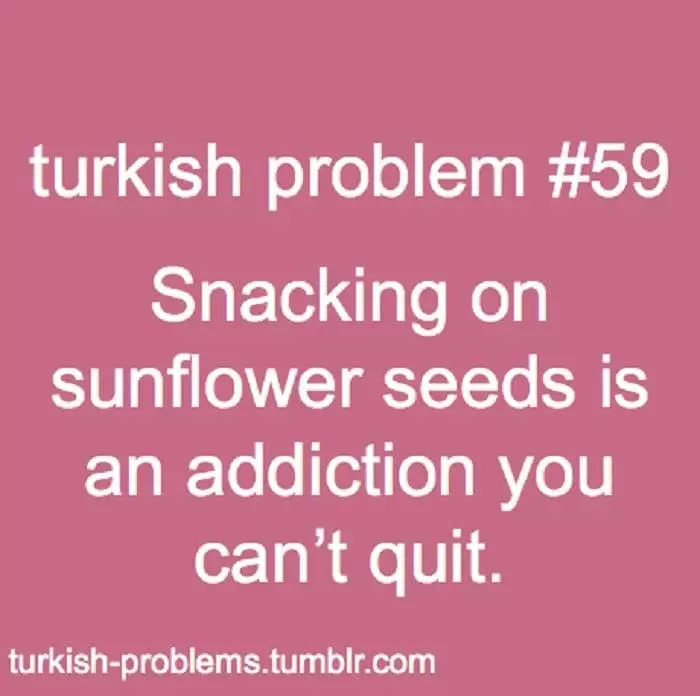 12: You are no longer fazed by the property market. As a stockbroker, you can buy , sell and flip houses on time. Having kept up-to – date with market data, you know the real estate market in Istanbul is a prime investment opportunity, and you can measure how much rental yield you can get from that seaside villa. Any dodgy emlak (state agent) who is trying to get one over you may want he was not raised.
13: Nobody's bothering you any longer. Compared to years ago when you had to be rude, run or hide, walking past restaurants is a doddle now!
14: At some point, you've been riding a moped with no helmet or more than one person.
15: You witnessed or participated in an animal sacrifice ritual in Kurban Bayram, and despite your Western beliefs; find it easier to avoid any moral debate about the custom. Besides, at the end of the day you like to take a bag of meat home.
16: You know of at least 3 Turkish people who find it socially appropriate to have a maid.
17: English people think you 're rude, because you roll your eyes and tut instead of saying no. When you ask why they didn't open their phone, they can't understand it, either.
18: The local corner shop has an exercise book written in it, with the name and the amount of money that you owe. You sometimes pick up a bunch of goodies without cracking an eyelid, and tell them to put it on the tab when you walk out.
19: You know all about condominium law, as well as being an authority on property for sale in Turkey, and residents want to vote for you as Baskan at the next annual general meeting.
20: In summer, you get excited when the watermelon guy arrives on his tractor.
21: The sun doesn't bother you much and you wonder why you got this air conditioning unit because it doesn't only make you sick because you never use it.
22: You developed a fondness for Kokoreç (Lamb intestines wrapped around seasoned offal) and recommend it wholeheartedly as an fitting alternative to boring kebabs.
23: Jumpers of the line make you chuckle. You can actually show them one or two things, because you disregarded all that your mother taught you about manners and mastered the art as a professional.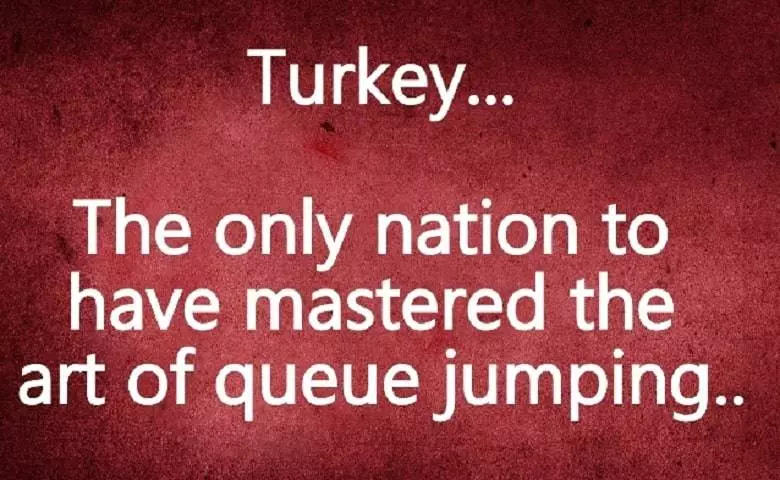 24: Many restaurants in your hometown are on your "DO NOT VISIT" list because you refuse to pay tourist rates, and if you have to watch another Turkish night show, you may lose your willingness to live.
25: The dolmus will be crowded at the height of the summer and at least 50 percent of passengers do not wear a deodorant, so you leave your house 20 minutes early to walk instead.
26: The parks are outstanding with free exercise equipment. You should not pay for using them, of course, because everybody knows that the whole point is to meet others for gossip. How should anybody figure it out?
27: You refuse to pay 10 liras for sunbathing on the beach and then throw your towel down on the sand. Give it a few hours and then everybody is going to leave, in which case you can hop up and get their sunbed back.
28: Dinner plates must be rinsed under running water after washing. Likewise, when you get out of it, you still love a bath but have to take a shower.
29: Jumping into the shower, immediately after making love, is totally and fully natural. It is unhygienic to put weapons on each other.
30: If you order food, it doesn't bother you that it costs only 10 liras, but the delivery boy had to drive halfway through the city to get it to you.
31: You like summer because you can put a cooker or a settee on your balcony. It's functional and comfortable, and is stereotyped by every outsider who thinks it looks ghettoish.
32: If you are PMTish or menstruating it is perfectly acceptable to take to your bed. You just don't care about equality between men and women for these few days and you're going to milk it dry when it comes to this chance to relax!
33: BBQs are accessible for any time of year, except when it rains or in the middle of the winter. You probably don't think twice about lighting up a BBQ in the middle of a grassy or wooded summer field.
34: If hepsiburada.com (Amazon's Turkish equivalent) had a competition for the most loyal customer, you 'd have a fair chance of winning.
35: The average sugar consumption is measured by cubes. Loose grain of sugar is for baking only.
36: To go for a pint in the afternoon is like a British thing. Now you're hanging around teashops and can last an hour make one tulip-shaped small glass of sweet tea. You are also extremely pleased to be drinking Turkish coffee now, because consuming something that tastes like mud means that you have done your bit for multiculturalism.
37: Lastly, you know that the local mosque calls to prayer five times a day, but you can't remember the last time you heard it because you became subconsciously used to it. That's a surefire sign of you behaving like a Turk now!
Turkey is a place where you can find a wide range of natural attractions that nobody else in the world can see. It is easy to reconnect with nature in Turkey, with 43 national parks and 300 wetland areas. With Turkey Tour and Turkey Tour packages, come and discover the amazing natural wonders, natural protected areas, and nature parks in our country.
Explore all of Turkey's natural beauties, such as breathtaking crashing waterfalls, magnificent mountains, idyllic Black Sea plateaus, beautiful canyons, fascinating valleys, breathtaking crater lakes, floodplain forests, majestic trees, lakes and rivers. Cappadocia Tour and Cappadocia Tour 2 days are available to guide you, visit them to explore more about Turkey its neighborhoods and its culture.